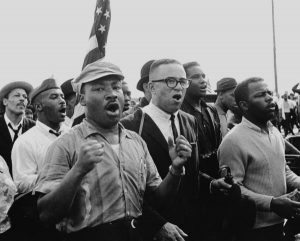 The World House Choir will join the Yellow Springs Community to celebrate the courage, tenacity, and activism of Dr. Martin Luther King on MLK Day, Monday, January 16 at the John Bryan Community Center, 100 Dayton Street in Yellow Springs at 11 AM. This program will take place in-person for the first time since 2020.
This MLK Day Celebration is a longtime village tradition that includes a march and a program as well as several activities throughout the village during the week. The Yellow Springs MLK Day organizing committee is calling this year's program "The Fierce Urgency of Now." The title is taken from Dr. King's famous April 4, 1967 sermon at New York City's Riverside Church in which he stated, "we are now faced with the fact, my friends, that tomorrow is today. We are confronted with the fierce urgency of now."
During the program, the World House Choir will perform Roland Carter's iconic arrangement of Lift Every Voice and Sing and WHC Tenor Phillip O'Rourke will solo in the rousing Sing Out, March On.  We will also perform Therese Edell's haunting and ever-timely song, Take Back the Guns and our final piece will be You Don't have to Ride Jim Crow from Steve Milloy's masterful oratorio about the life of Bayard Rustin.