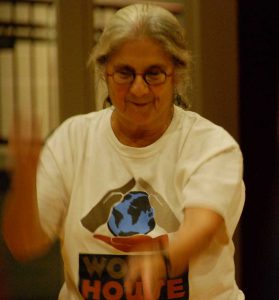 The Rev. Derrick Weston and Dr. Catherine Roma met in the summer of 2012. They were encouraged to meet one another because people felt they had the same focus about creating a peace and justice choir. Rev. Weston was Director of the Coretta Scott King Center and minister of the Presbyterian church in Yellow Springs, Ohio. In September 2012,  they worked together to form an embryonic choir that sang for world peace day celebration at the Presbyterian Church.
After that successful effort, a mission statement was created: "To perform music that motivates and inspires our communities toward justice, diversity and equality as we strive for peace and to create our web of mutuality." Rev. Weston and Dr. Roma wanted the choir to be associated with the Coretta Scott King Center at Antioch College and embarked on a collaboration.
The choir grew throughout 2013. The first major collaboration was for the CSK birthday celebration at the CSK Center at Antioch College in April 2013. This was considered  the "official" launch of the choir and the beginning of the public phase of our collaboration. Prior to the WHC's creation there were occasional celebrations of Ms. King's life at the CSK center.
From the beginning, Antioch College has graciously provided practice space in the CSK Center or elsewhere on campus and child care has been provided by Antioch College students. Louise Smith (Dean of Community Life) and Jennifer Berman (Community Life Liason) have been very supportive and have helped the collaboration to grow.
In 2013, Rev. Weston announced that he was leaving the CSK Center and Myla Cooper was hired as the new director.  We collaborate with her on the annual Coretta Scott King Birthday celebrations at Antioch College and we are also honored to perform at the Antioch College graduation ceremony each June.
The Choir is associated with "Arts for Peace and Justice," a non-profit association in Yellow Springs, Ohio created to promote and unite progressive arts movements for peace justice and social change with an emphasis on the choral arts and people's music.
The name "World House Choir" is rooted in Dr. Martin Luther King, Jr.'s metaphor that we must create a "world house" in which we all live together in peace and justice. The name refers to the choice each person must make – to live in community or chaos, particularly in a nation where racial stereotypes remain strong and multiculturalism a work-in-progress.
Past Performances
2013 Performances UN International Day of Peace – September 2013 – Presbyterian Church, YS
2014 Performances *Dr. Martin Luther King, Jr. Day Celebration – AME Church, Yellow Springs – January *Coretta Scott King Birthday Celebration – CSK Center, AC – April *Welcoming Dinner – Antioch College Campus – Impromptu performance for Board, Alumni, Students and Friends celebrating the new year. *TEDx Dayton, Victoria Theatre, Dayton, Ohio – I'll Make the Difference, Tribe and Tsosalosa. Chris Smith, soloist. Issa Walker, Soloist. Barbara Leeds, Accompanist. *"Love Makes a Family" Concert, Antioch College Theatre – A Celebration in Support of Marriage Equality.
2015 Performance Schedule *Dr. Martin Luther King, Jr. Day Celebration – His Light Still Shines – AME Church, Yellow Springs, Ohio (recorded by Michael Casselli for internet distribution ). Soloist Chris Smith. Readers: Dr. Kevin MacGruder and Louise Smith (both professors at Antioch). *Coretta Scott King Birthday Celebration – Antioch College – April 27, 2015 *Antioch College Graduation, June 20, 2015. The Hon. John L. Lewis, Speaker. *Peace Day, June 21, 2015 – Grace Methodist Church, Dayton, Ohio. *Misa Gaia (Mass of Creation, for environmental awareness) to be performed at Antioch College (coordinated with the last week of classes, summer 2015 quarter)
2016 Performances – Dr. Martin Luther King, Jr. Birthday Celebration in Yellow Springs,  AME Central Chapel; Coretta Scott King Birthday Concert, Antioch College Foundry Theatre; Antioch College Graduation; "Come Sit at the Welcome Table" Concerts in celebration of the UN International Day of Peace (Dayton, Yellow Springs & Urbana); Concert to End Gun Violence; Wilmington College Westheimer Peace Symposium.