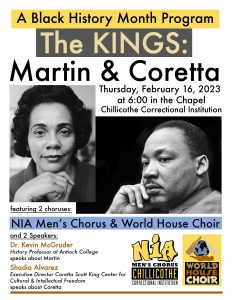 The World House Choir, after a three-year pandemic hiatus, will return once again to sing inside an Ohio prison on Thursday, February 16.
The program entitled, The KINGS: Martin and Coretta, is in celebration of Black History Month and will take place at Chillicothe Correctional Institution [CCI]. It will feature the newly established NIA Men's Chorus, a group of 22 singers from inside CCI as well as 42 singers from the World House Choir. NIA is the 5th principle of Kwanzaa and means purpose.
Dr. Kevin McGruder, professor of History at Antioch College will speak on Reverend Dr. Martin Luther King and Shadia Alvarez, Executive Director of the Coretta Scott King Center for Cultural and Intellectual Freedom, will speak about Coretta.
NIA Men's Chorus will sing "Let's Go Make History" by chorus member, Eddie Robertson. Eddie has sung with WHC director Catherine Roma since 1993 when she founded UMOJA Men's Chorus at Warren Correctional. Other pieces include "Spartimu's Kyrie" in Latin, "I Choose Love," written by Mark A. Miller for the Emmanuel AME Church in South Carolina after the murder of nine parishioners, "Every Time I Feel the Spirit," arranged by Moses Hogan, and "Seven Principles" by Bernice Johnson Reagon. This repertoire after only 10 rehearsals!
The World House Choir will perform several pieces including, "Lift E'vry Voice and Sing," "Freedom is Coming," and "City Called Heaven."