Weather is looking great for our re-scheduled performance. We joyfully invite you join us for an informal outdoor concert in front of the big barn at Agraria this Monday [Sept. 27] at 6:30pm. It is the opportunity of a lifetime—to see your friends sing the music of struggle and justice in black N95 masks. We ask everyone to wear a mask, socially distance and bring a chair if you want to sit. Everyone is welcome. Please car pool [if possible] as parking is limited.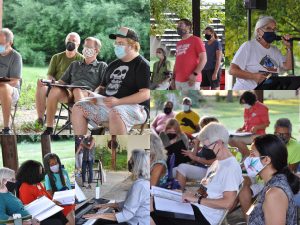 The choir has been rehearsing [masked] through out this COVID spring and summer in various outdoor venues —  from tennis courts to barns to parking lots to the covered Sculpture Annex on the Antioch campus — and we've been preparing for several upcoming performances.
The Agraria program will be short and feature Christopher G. Smith, tenor soloist and Valerie Blackwell-Truit, soprano and dancer for "I Feel Like Going On." The program will be interpreted for the deaf community. Another highlight will be the performance of a work called "Take the Torch and Run," by retired Dayton Police Officer and WHC tenor, Chelley Seibert. The work, about gun violence, will be introduced by Dion Green, whose father, Derrick Fudge, died in his arms at the mass shooting two years ago in Dayton's Oregon District.
Our vastly truncated COVID season comes to an end with another short appearance. Our final program of the year will be singing in our beloved hometown [Yellow Springs] for the unveiling of the Wheeling Gaunt statue on Saturday October 2 at 1:30pm at Hilda Rahn Park located at the Yellow Springs train station on Corry and US 68. Rain date is Sunday October 3 at 1:30.