Join us for our annual September concert in celebration of the UN International Day of Peace: Together We Bring on the Light. There will be three performances, two in Yellow Springs and one in Dayton, so mark your calendar for one of these dates: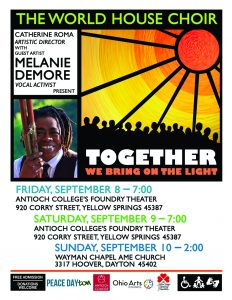 Our special guest, vocal activist Melanie DeMore, comes to us from Oakland, California and will add her remarkable musical gifts to this concert. She will use her signature Gullah rhythms with pounding sticks to teach and lead community singing with the audience.
As always, the World House will perform an eclectic mix of choral music from many cultures and genres — from Spirituals, to new political folk songs, to pop, gospel and Broadway.  Add to this Melanie's warm, engaging style that entices everyone to sing together and you have the ingredients for an exciting, vibrant night of inclusion that will engage, excite and heal.

Admission is free, donations welcome.  On-sight childcare is provided.  The concerts will be signed for the hearing impaired and the venues are wheelchair accessible and air-conditioned.